BSAS Conference 2019
Tuesday 9th April 2019, 9:00am to Thursday 11th April 2019, 5:00pm
Edinburgh International Conference Centre, Edinburgh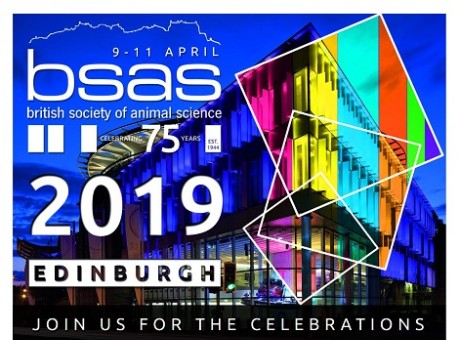 The 2019 Annual Conference, 'Fit for the Future', which will be a celebration of animal science's progress over the last 75 years.
Held at Edinburgh International Conference Centre - in the city where the society was first established in 1944 - the conference will also look ahead to livestock science's next steps, and identify the ways the sector needs to develop to ensure it can help meet the world's challenges.

Special sessions at the event will include a reflection on 75 years of animal science, looking at the pioneering people and technologies that have shaped the livestock sector, as well as the developments on the horizon.

Experts from across the world will discuss the ways research is being put into practice, covering subjects from sexed semen in cattle production, to precision livestock production and herd genetics.

Speakers from industry will also talk about subjects ranging from animal behaviour, the economics of animal welfare, and the adoption of new technology in livestock production.
There will also be species-specific sessions, including pig, sheep and equine, as well as workshops on aquaculture, companion and zoo animals, nutrition and youngstock. As part of the celebrations there will also be a gala conference dinner.