The Scotsman Life Sciences Conference 2020
Thursday 3rd December 2020, 9:30am to 4:00pm
Virtual Event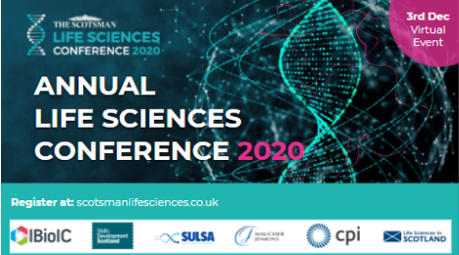 Subsector strategy panel discussions include a session on Animal Health, AgriTech and Aquaculture (AAA) with Roslin Innovation Centre's CEO John Mackenzie and our tenant Dr Lawrence Brown,
Animal Sciences and Aquaculture sector specialist with the Department for International Trade (Scottish office).
This year's virtual conference is FREE to attend. Please register for full access to the conference programme and breakout sessions. We look forward to engaging with the life sciences community and sharing more about AAA sector activities.
The conference will bring together key players from the life sciences industry in Scotland and beyond.
Key speakers include:
Kate Bingham, Chair of The UK Vaccines Task Force

Dave Tudor, The Life Sciences Industry Leadership Group

Ivan McKee MSP, Minister for Trade, Investment and Innovation

The event will include panel discussions on the following topics:
Strategic response to Covid 19 with

Pharmaceutical supply chain & innovation

Health technology

Animal health, agritech & aquaculture

Skills

There are many great networking opportunities throughout the day to chat virtually and start building collaborations.