Emergence of bacterial disease potentiated by toxin
Friday 4th October 2019, 3:00pm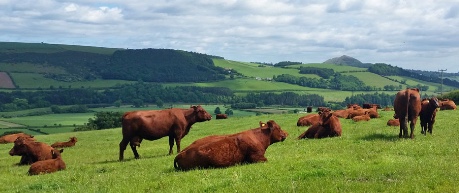 The toxin – produced by naturally occurring E. coli – helps these bacteria colonise the intestinal tract of cattle and increases transmission of the bacteria to other animals in the herd, scientists found.
Rapid and high levels of expression of the toxin also means that when humans are infected, they are more likely to suffer more serious symptoms.This helps explain the emergence of this dangerous human pathogen over the past 40 years.
Enterohaemorrhagic E. coli (EHEC) O157 are a subset of E. coli that are present in the gastrointestinal tract of cattle but cause no discernible disease in these animals. However, EHEC O157 excreted in the faeces of infected cattle can be passed on to people through exposure to contaminated water, meat or vegetables, causing disease.EHEC produce toxins known as Shiga toxins, of various sub-types.
These toxins cause from diarrhoea to more severe and potentially fatal kidney disease in people, by attacking the lining of blood vessels within the body.The study, involving a collaboration between scientists at Moredun Research Institute, The Roslin Institute, Biomathematics and Statistics Scotland and international partners, investigated the role in colonisation of the cattle gut of the most dangerous toxin subtype to humans – called Stx2a.
Ongoing work between these partners has developed a vaccine for use in cattle that has recently obtained commercial backing for a field trial.
The study was funded by the Food Standards Agency/Food Standards Scotland.
Source: The Roslin Institute