Members of the Scottish Parliament visit Easter Bush Campus
Wednesday 9th January 2019, 4:15pm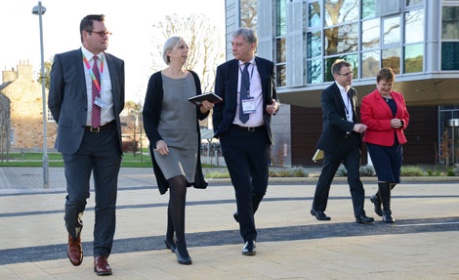 The Roslin Institute received a visit by Members of the Scottish Parliament (MSPs) Richard Leonard (Member for Central Scotland) and Rhoda Grant (Member for Highlands and Islands) on 9 January.

During the visit, the MSPs had the opportunity to visit the Roslin Innovation Centre – a hub for companies working in the animal and veterinary sciences, agri-tech and One Health industries.

The visit was made in advance of a Scottish Parliament debate on "Recognising the Life Sciences Sector in Scotland" so that the MSPs could learn about the work conducted at the Institute and gain further insights into the UK life sciences sector.
Included in the the visit was an opportunity to view the facilities at the Easter Bush Science Outreach Centre, a laboratory created for public engagement that hosts school and community groups attending workshops where they can conduct experiments with Campus scientists and vets.