Roslin Innovation Centre boosts UK economy
Thursday 5th January 2023, 11:21am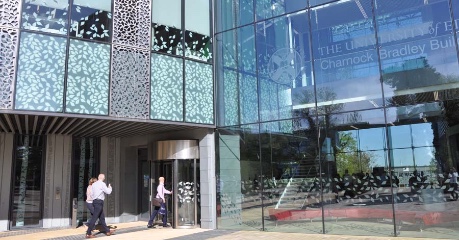 An independent review was commissioned by the Biotechnology and Biological Sciences Research Council (BBSRC) to examine the emerging outcomes, benefits and impact of its investment.
The report carried out by Bearing Point Ltd, shows that in its first five years of operation, Roslin Innovation Centre has far exceeded the estimates outlined in its business plan and has had a positive impact on the local, regional and national economy.
Roslin Innovation Centre opened its doors in August 2017 following a £30 million investment by the BBSRC, the University of Edinburgh and the Scottish Government.
Located on the University of Edinburgh's Easter Bush Campus, within Midlothian Science Zone, Roslin Innovation Centre provides 285 laboratory workstations and office space for up to 380 scientists, enabling established companies and start-ups to connect with world-leading researchers.
Work at Roslin Innovation Centre focuses on finding bio-based solutions to some of the most serious challenges facing society today. It does this by providing a dynamic, vibrant working environment that features world-class facilities equipped with the latest technologies.
Global challenges being tackled at Roslin Innovation Centre include:
climate change

food security

animal and human health

creation of more sustainable and prosperous communities

The review found that over the last five years, Roslin Innovation Centre has established an entrepreneurial and innovative culture that has helped tenants access vital research grants and inward investment funding.
Now in year six of operation, Roslin Innovation Centre has an occupancy rate of over 85%, which includes tenant companies from New Zealand, the USA and Europe.
Many tenants said their location within the Easter Bush Campus hub was influential in securing research grants, and approximately half of those interviewed felt it had helped them secure private investments. Since taking up occupancy, tenant companies have received, on average, one or more investments totalling over £100k - this includes several examples of inward investment from outside the UK.
Tenants also believed there were 'plentiful' opportunities for further collaboration within Roslin Innovation Centre.
The BBSRC-commissioned review found clear evidence of positive engagement with schools, colleges and the wider Midlothian community and the Edinburgh area by Roslin Innovation Centre tenants.
It also concluded that Roslin Innovation Centre has created significant economic benefits relative to its original £30 million investment.
According to the independent review, estimates range from between 109% (£1.09 for every £1 invested) to 621% (£6.21 for every £1 invested).
The authors of the independent review argue that the most reasonable estimate was a return equivalent to £2.86 for every £1 invested (a return of 286%).