Synpromics is now part of the AskBio family
Tuesday 13th August 2019, 10:30am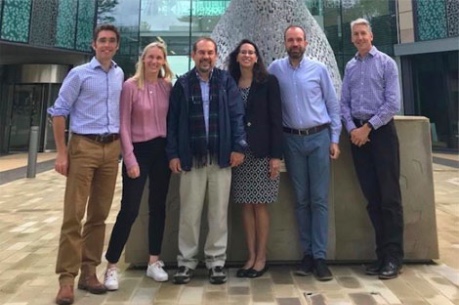 AskBio, the world's foremost clinical stage and gene therapy platform company, has acquired Synpromics, the leader in gene control synthetic promoter technology, bioinformatics and intelligent data-driven design that enables more precise cell targeting and gene expression.
Synpromics will operate as a wholly owned subsidiary and remain headquartered in Edinburgh, United Kingdom.
Photo L to R: Ken Macnamara, COO of Synpromics; Rosheen Caw, Director of Business Management of Synpromics; Jude Samulski, Co-founder of AskBio; Sheila Mikhail, CEO and Co-founder of AskBio; Michael Roberts, CSO and Founder of Synpromics and David Venables, CEO of Synpromics.

AskBio was founded by Jude Samulski, Ph.D., the first scientist to clone Adeno-Associated Virus (AAV), along with Xiao Xiao, Ph.D., who was the first to develop a miniaturized dystrophin gene enabling the advancement of gene therapy for Duchenne Muscular Dystrophy, and Ms. Mikhail, an accomplished life sciences executive. Focused on the development and delivery of curative gene therapies, AskBio's dynamic AAV technology platform and therapeutics pipeline serve patient populations with rare and generally untreatable genetic diseases. The company's extensive IP portfolio and manufacturing systems also enable other gene therapy companies such as Pfizer to advance AAV gene therapy for DMD and Avexis for SMA.
Founded in 2010 by Michael L Roberts, Ph.D., Synpromics created PromPT™, a proprietary data-driven promoter design and bioinformatics platform. PromPT™ has helped yield the production of groundbreaking cell selective synthetic promoters and regulated and inducible gene expression solutions. While naturally occurring promoters have limitations when utilized for industrial or therapeutic applications, Synpromics' synthetic promoters are designed to better regulate gene activity and precisely control protein production. This drives gene expression at an uncompromised level of selectivity in any cell type, tissue, environmental or biological condition. In addition to enabling more effective current and future-generation cell and gene therapies, the technology also has advanced bioprocessing applications.