World's biggest green ideas competition launches from ECCI
Wednesday 10th July 2019, 4:30pm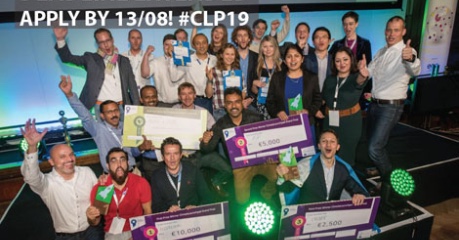 To enter the competition, budding inventors and entrepreneurs simply have to submit an idea or innovation that is tacking climate change.

Those selected to join ClimateLaunchpad, which is running in more than 50 countries around the world as well as Scotland, will get dedicated support to fast track their idea into a business, overcome challenges and secure funding.
After taking part in a Boot Camp and coaching sessions to develop their idea into a rock-solid business plan, participants will get the chance to pitch this idea during the Scotland Final later this year. The two-day boot camp for successful competition entrants is on Wednesday 28 and Thursday 29 August.
The top three winners of each national competition will go on to compete in the worldwide Grand Final in Amsterdam with prize money of up to €10,000 for the overall winner.
On top of that the top ten winners move on to the renowned EIT Climate-KIC Accelerator programme to help low carbon start-ups get investment-ready.
Last year ECCI hosted the Global Grand Final of ClimateLaunchpad in Edinburgh for the first time, with First Minister Nicola Sturgeon giving the keynote address and ECCI-supported start-up Crover beat off stiff competition from hundreds of competitors to bag third place, becoming the top performing Scottish team in the competition ever.

ClimateLaunchpad is one of the programmes delivered by ECCI in partnership with EIT Climate-KIC, the EU's main climate innovation initiative.
If you've got an idea with positive climate impacts and the potential to go stratospheric, submit your idea by Tuesday 13 August.