Zoetis announced as Platinum Sponsor for Scotland's inaugural A3 Conference
Thursday 18th March 2021, 9:00am
The organisers of Scotland's first global conference dedicated to the animal health, agri-tech, and aquaculture (AAA) sectors, A3 Scotland, is delighted to welcome Zoetis, the world's largest animal health company, on board as its lead Platinum Sponsor.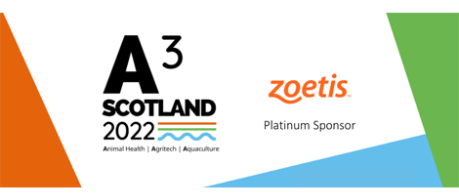 The inaugural not-for-profit event is being organised by Roslin Innovation Centre, University of Edinburgh, in partnership with Life Sciences Scotland AAA Industry Leadership Group, representing numerous organisations across Scotland, including Scotland's Rural College (SRUC), James Hutton Institute, Sustainable Aquaculture Innovation Centre, Scottish Association for Marine Science and Agri-EPICentre amongst other AAA stakeholders.
The idea for the event came from Lawrence Brown, Vet, Consultant and Innovation Manager for Health at Edinburgh Innovations and John Mackenzie, CEO of the Roslin Innovation Centre, who were inspired by Canada's Vet Health Global Conference.
The inaugural event was due to take place in September 2020 but, due to the pandemic, it has been postponed until 26 - 27th April 2022.