Collaboration and careers with industry
Friday 5th July 2019, 10:30am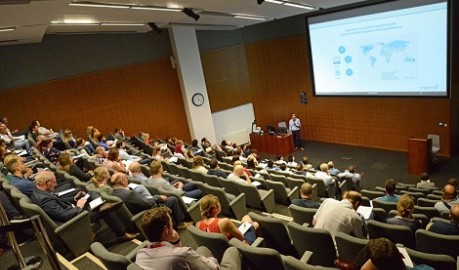 Roslin Innovation Centre is a hub for companies undertaking strategic, commercial and collaborative research in the animal and veterinary sciences, agri-tech and One Health industries.
All staff and students of The Roslin Institute and Royal (Dick) School of Veterinary Studies were invited to attend the Tenant Showcase on 27 June.
The event was organised in collaboration with The Roslin Institute's Knowledge Exchange & Commercialisation (KEC) team as well as Professor Bruce Whitelaw, Deputy Director for partnerships.
The Showcase was attended by 100 guests and was a great opportunity to find out more about opportunities for collaboration with or working in industry. The purpose of the event was to raise awareness of the capabilities and interests of tenant companies located in the Roslin Innovation Centre, to encourage and support academic-industry engagements and collaborations, and to highlight the potential career opportunities available outside academia, in the agri-tech environment and on their doorstep.

The event - moderated by John Mackenzie, CEO of Roslin Innovation Centre - included 12 industry presentations, followed by lunch and networking opportunities, with companies holding trade stands. In the afternoon, interested attendees were provided with a workshop where they learned about details of a new funding call.
Source: The Roslin Institute