Roslin Technologies signs collaboration agreement to develop E. coli vaccine
Monday 23rd September 2019, 9:30am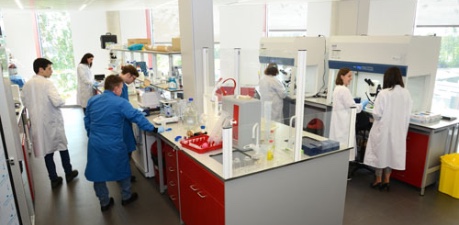 The project team has been led by Dr Simon Wheeler COO of Roslin Technologies, with significant input from the Principal Investigators Professor David Gally of The Roslin Institute and Dr Tom McNeilly of Moredun Research Institute.

Roslin Technologies is a tenant company at Roslin Innovation Centre, with office and lab space on the Easter Bush Campus.
E. coli O157:H7 is a pathogenic bacterium of cattle which can cause life-threatening foodborne illness in humans through the consumption of contaminated products such as dairy products and meat. Despite efforts to reduce contamination of food, E. coli O157:H7 causes 1-10 cases per 100,000 people, with certain countries having clusters of more virulent strains (UK, USA, Argentina, and Sweden).
The experimental vaccine has been developed to limit E. coli O157:H7 shedding from, and transmission between, cattle. Although the bacteria doesn't harm the cattle, farmers will be encouraged to vaccinate animals against infection and this new vaccine should enable this to be done cost-effectively. Early results have indicated that the vaccine may be more effective than other previous attempts and have a greater impact in reducing human exposure and infection.
Under the new agreement, Roslin Technologies will perform a two-step validation trial from May – September 2020 in Nebraska, USA. The field trials will examine super-shedding in cattle (the passing of large volumes of bacteria in faeces) to discover whether the vaccine prevents shedding of the bacteria and is viable for commercial use.